Rising damp control in Lurgan, Northern Ireland
Action Against Damp provide eradication for rising damp, woodworm & condensation to clients across Northern Ireland.
What Causes Rising Damp?
Rising damp in buildings may be defined as the upwards flow of moisture through a permeable wall structure, the moisture being derived from groundwater. The moisture rises through the pores (capillaries) in the masonry by a process loosely termed 'capillarity', which causes the masonry to act like a wick. At Action Against Damp in Craigavon, dealing with damp is what we do. We can take care of everything from surveys and reports to remedial work, to help protect the structural integrity of your building. Contact our team in Craigavon today. We serve clients across Northern Ireland.
Treatment Solutions
For successful treatment and eradication of rising damp you must first stop the source of dampness. This is commonly achieved by introducing a new chemical damp proof course into the base of the wall. Following the installation of the damp proof course, it will then be necessary to replace the existing damp affected plaster internally with a new specialist cement-based render which will be suitable for use in damp conditions and subsequently hold back any residual moisture and hygroscopic salts that remain present within the wall structure, and will also prevent slats from migrating through to the surface of the new plaster.
To successfully prevent the progress of rising damp through a wall structure, it is necessary to have a suitable and effective damp proof course. A damp proof course is a horizontal barrier located at the base of the wall which in turn prevents the upward flow of moisture. Many older buildings were constructed with a physical damp proof course; however the materials which were utilised in early 20th century, such a pitch and bitumen were very thin and overtime would become brittle and deteriorate which in turn would lead to ineffective barrier against rising damp.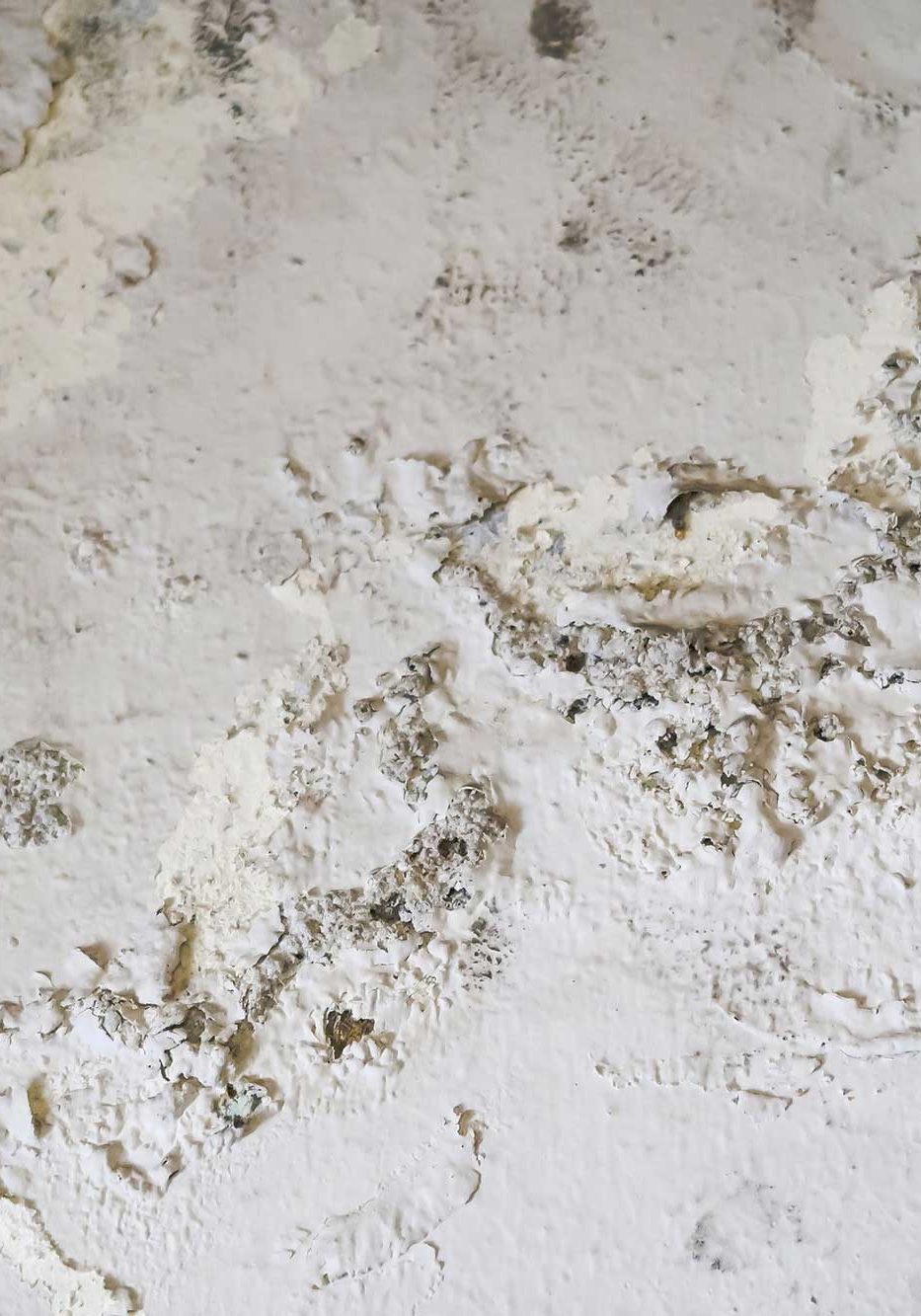 Installing a new physical damp proof course into existing walls can be hazardous, expensive and not to mention impractical. Today the most practical and effective way to eliminate rising damp is to install a chemical damp proof course, commonly achieved by injecting thixotropic creams into the wall, which subsequently turns the existing mortar bed into a waterproof barrier.
The new chemical damp proof course should be installed no less than 150mm above external ground level in order alleviate the risk of splash back from the external surfaces which in turn could potentially lead to bridging of the damp proof course and subsequent low level penetrating damp.
Condensation
Condensation is by far the most common cause of dampness in buildings, probably accounting for the majority of damp problems reported. It affects both old and new buildings, but it appears to be a significant problem where the building has been modernised.
Condensation is directly associated with mould growth. It is this that the occupier sees first, and it gives an indication of the potential scale of the problem. The mould is usually found on decorative surfaces, especially wallpapers, where it can cause severe and permanent spoiling. In many cases, the mould and its spores ('seeds') give rise to complaints about health, and cause the "musty" odour frequently associated with a damp house.
The obvious places for condensation to occur is on cold walls, windows, and floors, but it can also occur in roof spaces and in sub-floor areas where there is a timber suspended floor; in the latter case, it can lead to dry rot or wet rot developing in floor timbers.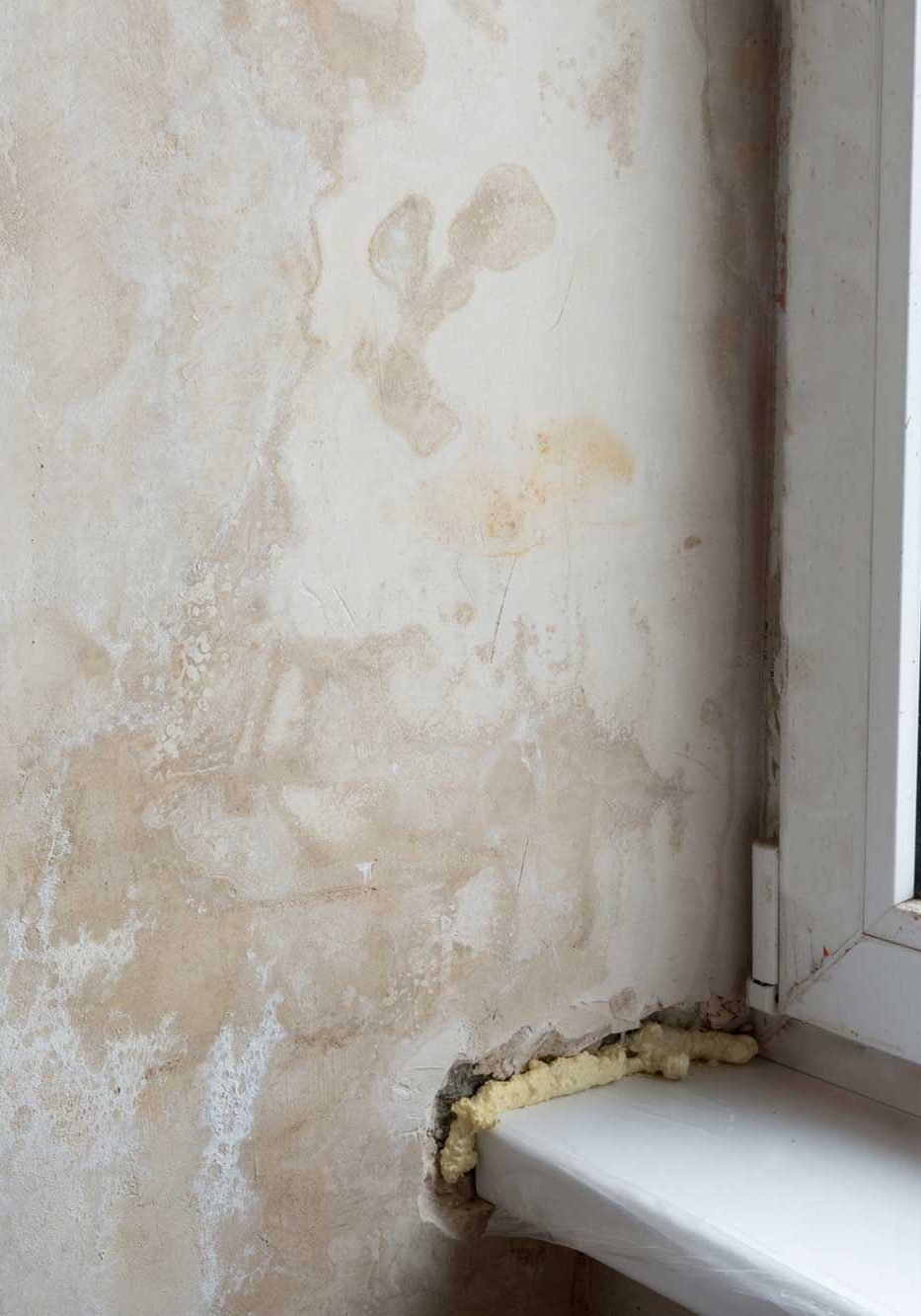 Health Effects
It has been widely documented that excessive dampness in buildings can have negative effects on the health of the building's occupants. 
Additional Information
Local Climate – rising damp will often rise higher in colder locations. Winter vs Summer – In a European climate damp tends to rise higher during the wetter, colder winter months. Northerly Aspect – height of rise tends to be higher on walls with a northerly aspect (in Northern Hemisphere) as these walls are cooler than those with a southerly aspect.
Unheated house – evaporation is lower in unheated (or unoccupied) homes than in heated homes Thick walls – have lower evaporation rates than thin walls as their surface area is proportionally lower.